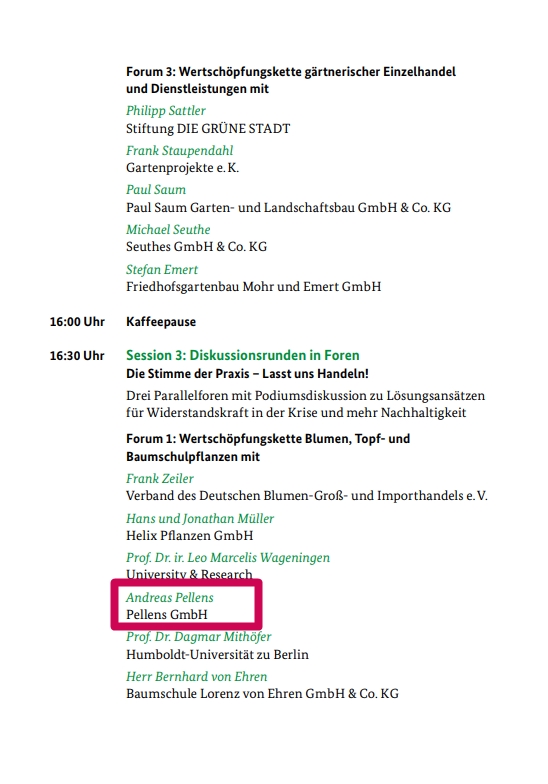 Andreas Pellens was invited to the podium as a panelist at this year's "Zukunftskongress Gartenbau" (Convention on the Future of Horticulture), which will take place on 18th and 19th October 2022 in Berlin. The organizer is the Federal Ministry of Food and Agriculture (BMEL).
Andreas Pellens was asked to speak as a "voice of practice" on the topic of "solutions for resilience in the crisis and more sustainability" and to participate in the discussion. He will present the measures we at Pellens Hortensien have implemented for more ecological sustainability, but will also talk about social sustainability, which has not yet been given much attention.
With regard to the concerns of the congress, the BMEL explains: "Since spring 2022, the framework conditions for horticulture have been changing continuously. After most horticultural sectors came through the pandemic relatively well, the massive increase in costs and the availability of material, energy and labor are now Central topics. In this area of ​​tension, the horticultural businesses must orientate themselves and position themselves in a future-oriented manner. The Federal Ministry of Food and Agriculture wants to deal with the challenges and trends promptly with all those interested in horticulture and from gardening and landscaping.
After the second congress on the future of horticulture in 2013, it was suggested that after ten years the impact and enforcement of the results of the congress should be evaluated, based on the developments that had occurred in German horticulture. In spring 2022 the scientific findings on the framework conditions and the strategies derived from them on the development potential of horticulture were still up to date and were able to provide practical orientation for politics. They offered gardening companies reliable guidelines for sustainable developments. Since then, the framework conditions have changed and made it necessary to reassess the situation."
This post is also available in:

Deutsch