PRESS RELEASE
The following text may be used for media publications. Photos can be send to you on your request.

Pellens Hortensien Invests About 1 Million Euros
New Cool Store Improves Plant Quality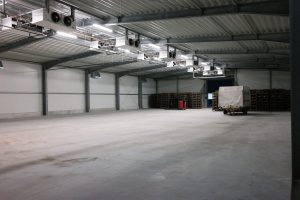 Hydrangea specialist company Pellens has invested close to 1 million Euros to build a cool store of 1100 square meters at its home base in Geldern (Niederrhein). An working greenhouse of again 1100 square meters has been errected adjoiningly and now put into operation. "We invest into the improvement of our plant quality as well as into the optimization of operational processes," managing director Andreas Pellens explains. Up to 2000 CC-trolleys can – stacked – find room in the new cool store.
Construction not the optimum anymore

Pellens experienced what happened to many nurseries that have grown bit by bit over the years: The constructional circumstances have not been the optimum anymore for the quantity of production. "We already had three own cool stores, two of which were sited logistically impractically in the former farmhouse of the family, though, and whose size and cooling technique were simply outdated," Andreas Pellens reports. Additionally, the majority of the cooled goods have been stored externally in hired cool stores till now out of capacity reasons. Finally, the existing packing hall with about 600 square meters became too small when in spring the commissioning of half ready and ready plants came into conflict.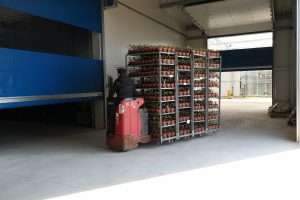 The search for possibilities of optimization resulted in the decision for errecting a new, large cool store, as well as an additional working greenhouse. It was build in the last four months at the western end of the company, directly next to a second loading bay that has been build a few years ago.
Pellens: "In diesen neuen Betriebsteil haben wir nun die komplette Rohwareverarbeitung verlagert und dadurch zentriert. Zwei unserer älteren, unrentablen Kühlhäuser werden wir in Zukunft nicht mehr nutzen. Auch fallen zahlreiche Transportfahrten von den externen Kühlhäusern zum Betrieb und andersherum weg. Die Überwachung der Pflanzen in der Kühlung ist durch die kurzen Wege wesentlich vereinfacht. Und dank modernster Kühltechnik wird die Qualitätssteuerung während der Kühlphase wesentlich verbessert, einmal von der Energieeinsparung ganz abgesehen."
Freiluftkühlung und Solar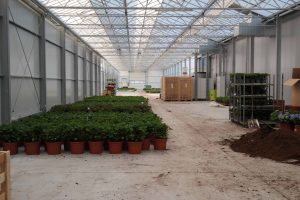 Tatsächlich spart das Kühlhaus im Vergleich zu einem Standard-Kühlhaus rund 60% Energie ein. Zum einen durch eine dickere Wand- und Dachisolierung. Zudem verfügt es über eine komplette Wärmerückgewinnung. Diese Wärme wird zum Abtauen der Verdampfer und zur Entfeuchtung des Kühlraumes genutzt. Die Verbundanlage besitzt neben einem klassischen Kompressor mit Drei-Stufen-Motor auch einen energiesparenden frequenzgeregelten Kompressor. Hinzu kommt eine Freiluftkühlung. Entspricht die Außentemperatur der Kühlhaustemperatur oder liegt diese niedriger, wird über Lüfter mit Außenluft gekühlt, was den Energieverbrauch ebenfalls erheblich senkt. Schließlich gibt es zwischen Gewächs- und Kühlhaus noch eine Schleuse, die den Warmlufteintrag reduziert und Energieverluste minimiert. Somit ist auch der Feuchtigkeitseintrag geringer und eine gleichmäßigere Lagertemperatur kommt der Pflanzenqualität zugute. Als weitere bauliche Maßnahme werden noch Solarzellen folgen, wenn nach einigen Betriebsmonaten die Bedarfsmenge erkennbar ist.
Nach vier Monaten Bauzeit sind Kühlhalle und Arbeitsgewächshaus nun bereits voll in Betrieb. Pünktlich, bevor im Mai der Platz für das Topfen benötigt wird. "Mein besonderer Dank gilt daher den beteiligten Firmen Mefus& Frisch Kältetechnik, Schwefers & Raab Kühlhausbau sowie Olsthoorn Gewächshausbau", schließt Andreas Pellens.
Merken
Merken
Merken
Merken
This post is also available in:

Deutsch