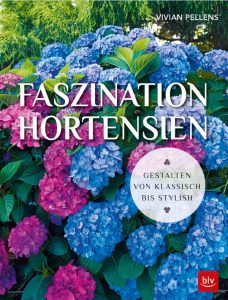 Vivian Pellens is the auther of a new enduser special book about hydrangeas, that has now been published by BLV. "Faszination Hortensien" (Fascination Hydrangeas) is the name of this 112-pages workpiece in German. It describes modern design styles for balcony and garden, and how to realise them with hydrangeas; for example the "romantic vintage" or the "New German Style". The best varieties for every site, if chambers, balcony or flower bed, and all basics about the cultivation round out this book. Right now the book can be pre-ordered already, deliveries start on the 9. June.
"BLV approached me when looking for an authoer for a new book about hydrangeas", Vivian Pellens explains. "This confidence in my expertise and writing skills has surprised me, but above all it was a pleasure to me. The cooperation with the editorial office of the publishing house BLV has been very good and I can only say thanks for that. And I send a big "thanks" to my husband Andreas, to whom I owe the "special training" about hydrangeas over the years of our marriage and who made writing this book for me possible at all.
"Faszination Hortensien", BLV, ISBN 3835416731, 18 Euros.
Merken
Merken
Merken
This post is also available in:

Deutsch