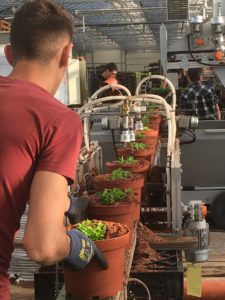 How can we achieve better rootings for hydrangeas in the early stages of cultivation? In the current cultivation year Pellens Hortensien focusses on this question and already gained good success. The results will be presented at the International Plant Show IPM in Essen (Germany) from 22. till 25. January 2019.
"We check our cultivation processes continually to steadily improve our product quality," Andreas Pellens, Manager of Pellens Hortensien, explains. "During the current season we aimed at a better root growth." Pellens Hortensien applied container mulch to the top of the cultivation planters for the first time. Pellens has complemented its potting line with the corresponding machinery. The result: "Significantly better, more equal rooting and less weeds," informs Andreas Pellens. Water could be spared as well due to reduced evaporation. Especially during the hot and dry summer of 2008 this effect was strongly noticeable. A support for a good ecological balance sheet, Pellens adds. At the IPM visitors may gain their own impression of the roots at Pellens' booth 2E25.
Reinforcement for the 'Colour Club'
Additionally, the topic of the mixed planters has been pursued further. "With our new brand 'Colour Club' that we introduced last year we obviously hit a nerve again," Pellens reports of good sales. "We continued to work on this and can now offer further long living, attractive hydrangea mixes for the oncoming season." Ready grown mixes in the form of Trios, Quattros and Multi-Mixed hanging baskets with lacecap and mophead hydrangeas belong to this assortment. And of course "Everbloom", the hydrangeas that bloom on the new sprouts as well, and the filled hydrangeas of the "You&Me"-series will play their role again as well in the wide assortment of Pellens that will be shown at the IPM.
You find us here:
Halle 2.0, Stand 2 E 25
This post is also available in:

Deutsch